Recently I finished a new module to add informations about country (where does my users come from) into the statistics. Althrough OpenX 2.8 has a plugin openXDeliveryLogCountry which collects the country statistics, the part to integrate this data into the UI is still missing.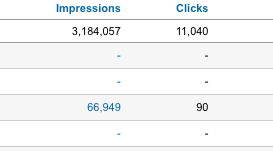 My new country-stats module fills the missing gap. With a simple click to the impressions column you get the country details of the current row – this works within all levels of the statistics.

The modul is available for OpenX 2.8 and 2.6 – unfortunately it require still some patching of codebase.
To get the files and instructions for OpenX 2.8 please download here: stats_country_2.8.zip For OpenX 2.6 please contact me.
Changelog:
Oct/04.2010: fixed column sorting (you only need to update stats-country.php)
Oct/28.2009: fixed missing path in Admin_DA_patch.txt
Aug/24. 2009: improved column sorting.